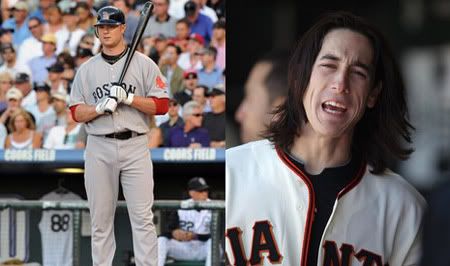 The Boston Red Sox will finish up interleague play this afternoon in the condom game of a three-game set against the San Francisco Giants at AT&T Park. The Red Sox are currently 12-5 against the NL.
This afternoon's game will start at 4:05 p.m. and will be shown in the Red Sox television market on NESN. If you live in the Giants television market, you can catch the game on CSN Bay Area. If you can't catch the television broadcast, you can always listen to the game on the 2010 Red Sox radio network.
Jon Lester will be looking to bolster his All-Star creditials in his 16th start. In his previous 15 starts, Lester is 8-3 with a 3.03 ERA. He's never faced the Giants in his career. In 12 career interleague starts, Lester is 6-2 with a 2.86 ERA.
The two-time reigning NL Cy Young award winner Tim Lincecum will toe the rubber for Bruce Bochy's Giants squad this afternoon. "The Freak" has made 15 starts this season and is 8-2 with a 2.86 ERA. He's never faced the Red Sox in his career. Lincecum is 5-2 with a 3.63 ERA in 10 career interleague starts.
Lineups, batter/pitcher matchups, and links after the jump.