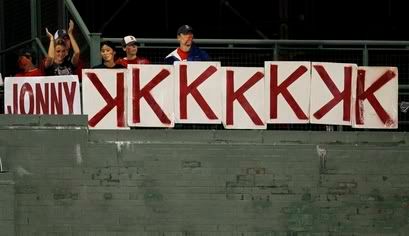 Jon Lester wasn't at his best last night for the Boston Red Sox against the Arizona Diamondbacks but sometimes Lester doesn't have to perfect to get a win. That was definitely the case last night.
Lester had command issues but switched to his off-speed stuff to help him get seven strikeouts on the evening. He only gave up four hits and the two runs he allowed came on a Justin Upton 2-run homer. He walked three hitters and went to a few 3-2 counts. But even when Lester isn't on his game, he's still pretty darn good.
It was the above mentioned off-speed pitches that bewildered the Diamondbacks hitters. In counts where a fastball is usually called, Victor Martinez would call for a curve or changeup and most of the time, the D'Backs hitters would just watch it for a called strike three.
Lester along with Clay Buchholz have been the aces of the staff this year in a rotation that also includes Josh Beckett and John Lackey. But with Beckett hurt and Lackey struggling at times, both of them have stepped up to push the Red Sox to the top of the AL East.
In fact, Lester has been on a nice run as of late as he is 8-0 with a 2.01 ERA over his past 11 starts. If Beckett can get back to health and form and Lackey can get through his struggles and get on a Lester-like run, the Red Sox starting pitching could help propel them to another playoff berth.
Offensively, Dustin Pedroia is back on track after a mini-slump that came about after a minor injury to his right knee in Detroit. He had an MRI at the beginning of the homestand that came back negative and he's done nothing but hit, including a big two-run homer that got the Red Sox started last night. Pedroia has now hit in his last six games. He's also made some big defensive plays including one last night that helped Lester escape a bases loaded jam.
Hopefully the Red Sox can close the series with a sweep, something they haven't been able to do in their last four series after taking the first two games.
Don't forget tonight's game has been moved up to 6:10 p.m. to accommodate Celtics fans who want to watch the game at 9 p.m. on ABC. And please take a few moments and vote 25 times for the Red Sox in the AL All-Star voting. Lord knows they need it.
We'll be back later with tonight's lineups, batter/pitcher matchups, news and any links from the day but for now enjoy the overnight links.