Welcome to the Gigantic Sox and Dawgs 2014 MLB preview. Over the next few days you will get a team by team look at its key players, new faces, their potential MVP, Cy Young and Rookie of the Year candidates, their possible starting lineup and rotation as well as a quick summary.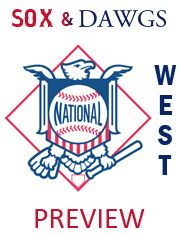 We will also select a MVP candidate and Cy Young candidate for each team no matter what their predicted team outcome is.
Also added this year is some home stadium information along with dates the teams will play against the Boston Red Sox. The red shaded games are at Fenway; the blue shaded games are road games.
This preview was sculpted over the off season with some mild tweaking as we went along prior to publication. It comes from a culmination of reading many hours of baseball research.
I hope you enjoy this look at the upcoming season.
It was a lot of work but a lot of fun compiling this preview and starting today we will take a look at the National League West. The rest of the schedule follows with a different division being profiled each day and the final day will bring you the winners, award selections and a list of managers who have a lot to prove in 2014 if they want to be on the bench in 2015.
Tomorrow you will get the American League West preview followed by the NL Central, AL Central, NL East and AL East.
To continue reading, click on the read more button below if you're on the home page.
no comments