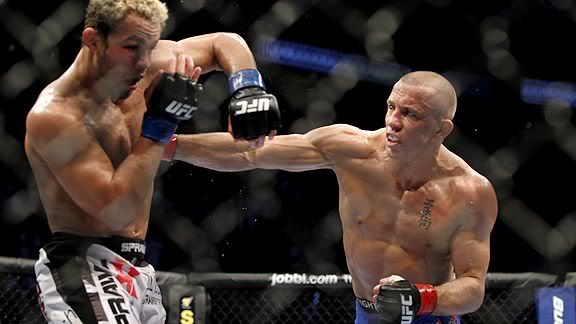 If there was any doubt that Georges St. Pierre is the best pound-for-pound fighter in the UFC and MMA, there was definitely none after he completely dismantled Josh Koscheck to retain his UFC Welterweight belt at UFC 124 at Bell Centre, Montreal, Quebec.
It's not too often, if it all, you see someone in MMA come out and use a jab.
Well that's exactly what GSP as it was his constant jabs to the right eye of Koscheck that really set the tone of this bout. Having to consistently protect his eye, Koscheck was never really able to mount any attack and GSP, being the best at what he does, took full advantage of that.
GSP was very technical with his punches and kicks throughout the fight, especially with that jab. He was never in a real danger even with Koscheck landing a few uppercuts.
It will be interesting to see who GSP will fight next in the 170 lb weight class. Could it be Thiago Alves who fought probably the best fight of his career in the first fight of the main card? GSP has already beaten him once.
Only UFC president Dana White knows that answer.
Here's the fight replay plus the post-fight interviews of GSP and Koscheck with Joe Rogan.
Photo credit: ESPN.com