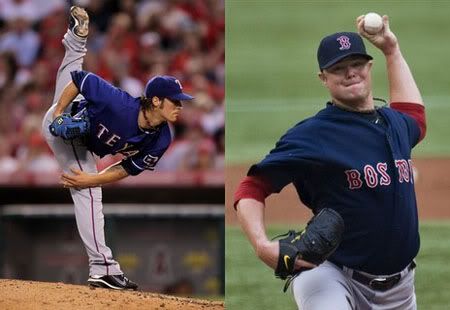 After a dramatic comeback victory last night, the Boston Red Sox will look to salvage a split of their four-game set with the Texas Rangers at Fenway Park.
This afternoon's game will start at 1:35 p.m. and will be shown on NESN in the Red Sox television market. The game will be broadcast on Fox Sports Southwest in the Rangers television market. If you can't catch the television broadcast, you can always listen to the game on the 2010 Red Sox radio network.
Jon Lester makes his first start since the All-Star break for the Red Sox and Terry Francona. In 18 starts, Lester is 11-3 with a 2.74 ERA and he hasn't faced the Rangers in 2010. He's made five career starts against them though and is 2-0 with a 3.55 ERA.
C.J. Wilson makes his 19th start of the season. In his previous 18 starts, he is 7-5 with a 3.35 ERA. He's faced the Red Sox this year, picking up the win back on 4/22 after allowing no runs over 6 2/3 innings. Overall in his career, he's made 13 appearances (one start) against the Red Sox and is 1-1 with three saves and a 1.56 ERA. He's made seven appearances (one start) at Fenway Park and is 1-1 with one save and a 1.86 ERA.
Keep reading for lineups, batter/pitcher matchups and pregame links.