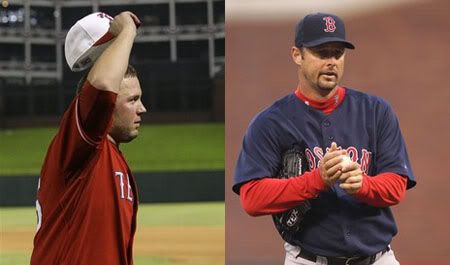 After having the last three days off for the All-Star break, the Boston Red Sox return to action tonight as they'll host the Texas Rangers in the first game of four at Fenway Park
Tonight's game will start at 7:10 p.m. and will be shown on NESN in the Red Sox television market. The game will be broadcast on Fox Sports Southwest in the Rangers television market. If you're lucky enough to live in the Dodgers or Cardinals television markets, you can catch the game on the MLB Network. If you can't catch the television broadcast, you can always listen to the game on the 2010 Red Sox radio network.
Tim Wakefield gets the ball from Terry Francona to kickoff the unofficial start to the second half of the season. Wake has made 18 appearances (14 starts) in 2010 and is 3-6 with a 5.22 ERA. He's made one start against the Rangers this season back on 4/20 where he took a no decision after allowing six runs in six innings. Overall in his career, he's made 34 appearances (27 starts) against the Rangers and is 10-15 with four saves and a 6.09 ERA.
Tommy Hunter will make his just his seventh start of the 2010 season tonight. In his previous six starts, he is 5-0 with a 2.34 ERA. He's made two career appearances against the Red Sox and is 1-1 with an 11.74 ERA. He's made just one start at Fenway where he took the loss after allowing nine runs in 1 2/3 innings back in 2008.
Keep reading for lineups, batter/pitcher matchups and pregame links.