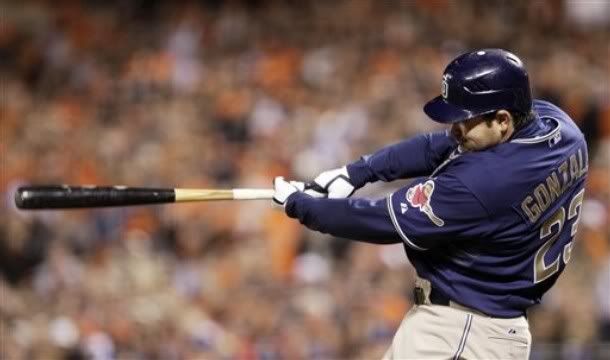 Currently, the Boston Red Sox don't have a third baseman. Or is it that they don't have a first baseman? With Kevin Youkilis being able to play both positions, the Red Sox can pursue either a free agent third baseman such as Adrian Beltre or a free agent first baseman.
Or, Red Sox GM Theo Epstein can make a phone call to an old friend Jed Hoyer in San Diego about first baseman Adrian Gonzalez who will be a free agent after the 2011 season.
Well apparently that's what Epstein is doing as Gordon Edes of ESPN Boston is reporting that Epstein has been talking with Hoyer about the possibility of sending Gonzalez to Beantown for top minor league prospects.
Edes states the the Red Sox would not lose Daniel Bard and the Padres would probably be looking at package with any combination of Casey Kelly, Anthony Rizzo, Ryan Kalish, Josh Reddick, Jose Iglesias, Reymond Fuentes, Stolmy Pimentel and Ryan Lavarnway.
Steve just recently wrote about the possibilities of adding Carl Crawford or Jayson Werth to the Red Sox lineup with or without Beltre. Imagine the possibilites of having Gonzalez hitting in the middle of the lineup. It would give the Red Sox a murderer's row in the middle of the lineup with Ortiz, Youk, Gonzalez, Werth or Crawford, Ortiz, Youk and Gonzalez.
Gonzalez will earn $6.3 million in 2011 in the final year of his contract with the Padres. He'll also command a contract similiar to Mark Teixeira when he hits free agency so the Padres may be inclined to move him sooner rather than later.
Gonzalez hit .298 with 31 home runs and 102 RBIs in 2010. In his last four seasons in San Diego, he's hit 137 home runs with 419 RBIs.
With the winter meetings getting ready to start in Orlando on Monday, you can bet that the talk between the two old friends (Epstein and Hoyer) will most certainly heat up.
Photo credit: AP Photo