I'm pretty sure UConn Huskies women's basketball coach Geno Auriemma doesn't want to see what happened on Saturday ever happen again this season. With only 10 players and half of those freshman, he can ill afford to have any of his players get hurt or even get into some serious foul trouble.
The Huskies were able to survive Tiffany Hayes' mild concussion and All-American Maya Moore's first half foul trouble to take a 78-55 win over the Louisville Cardinals in front of 16,294 at the XL Center in Hartford, CT.
Hayes was injured just 46 seconds into the game when she collided with Moore as they were both trying a double team on defense. According to Rosemary Ragle, UConn's trainer, Hayes was feeling better after the game and will be reevaluated by UConn team doctors on Sunday.
It's the fourth straight win for the Huskies as they improve to 16-1 (6-0 Big East). The visiting Cardinals fall to 12-7 (3-2).
Moore led the way for UConn with 26 points and had six rebounds, three assists and four steals. Bria Hartley had a career-high 24 points to go with eight rebounds and three assists. Stefanie Dolson hit double digits as well as she added 12 points and four rebounds.
Kelly Faris led the Huskies with 12 rebounds along with her seven points, three assists and four steals. She did however commit seven turnovers.
Shoni Schimmel led Louisville with 15 points and had four rebounds and six assists but also had seven turnovers. Keshia Hines had nine points and five rebounds before fouling out while Tia Gibbs also had nine points.
The Huskies started out slowly over the first five minutes of the game as they were just 3-of-7 from the floor but were able to maintain a 10-9 lead heading into the first media timeout. UConn came out of the timeout and put together a 10-3 run to take an eight point lead.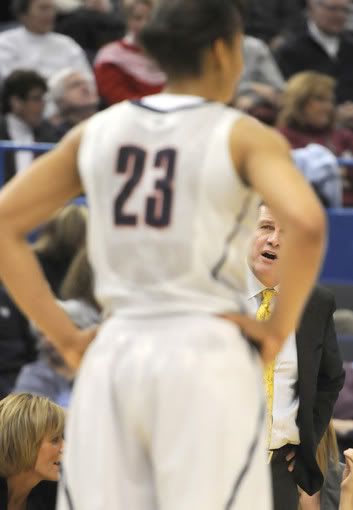 UConn's lead was 28-18 when Moore picked up her third foul with 5:15 remaining in the first half. With Moore out of the lineup, the offense suffered as Louisville would outscore the Huskies 8-3 to end the half.
The Huskies were a much better team in the second half though as Moore would not pick up a foul.
They started out on a 6-2 run to open up a nine point lead but Louisville would get it back down to five with the next four points. After an exchange of baskets, the Huskies pushed the lead to ten at 46-36 but that's as close as the Cardinals would get as the duo of Moore and Hartley was just too much.
This was a good teaching lesson for UConn's younger players as they learned what it was like to play without two of their top players for a small period of time. It was also nice to see Hartley step up in the absence of Hayes and help Maya out on the offensive end.
It could have ended up being a disastrous result but the Huskies persevered and picked up the win.
The Huskies now head to Tobacco Road as they'll take on the North Carolina Tar Heels in Chapel Hill, NC on Monday in their annual MLK Day game appearance. The game is scheduled to start at 7 p.m. and will be televised nationally on ESPN2.
To continue reading, click on the read more button below if you're on the home page.