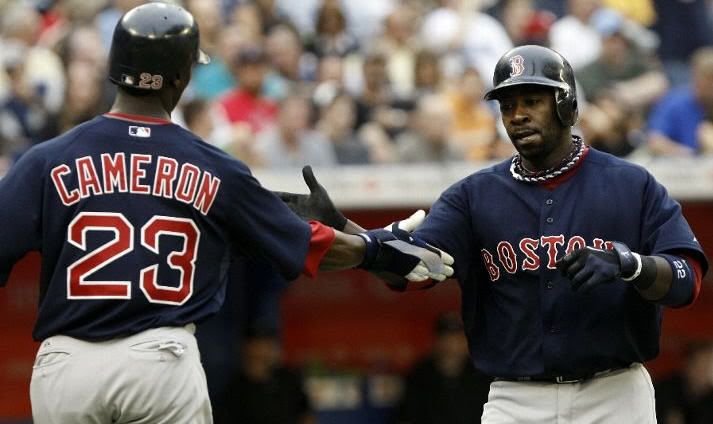 Before we get going here today, I just wanted to say a quick thing. While I really don't need to apologize for skipping yesterday's Boston Red Sox news & notes post, I do want to apologize. I had something come up last minute and basically had to get out of here as fast as possible so I wasn't able to do anything on the site until late last night. For those who do know what was going on, the situation has stabilized.
The Boston Red Sox went north of the border having lost four straight games as the injuries continued to mount. Fortunately, the day off helped the latest player with an injury, Kevin Youkilis, to gather an extra day of rest and it was beneficial for him and the whole team as the bats came out in droves last night.
The Red Sox had 14 hits, including six extra base hits (four HR's, two doubles) in their 14-3 win over the Toronto Blue Jays. They got another great start from Jon Lester and the best part of the night was the fact they were able to rest Youk, Marco Scutaro and J.D. Drew who all have been battling nagging injuries.
And oh yeah, the Tampa Bay Rays lost last night so the Red Sox are back to being two games behind them for second place in the AL East. The Red Sox still trail the first place New York Yankees by five games.
Bill Hall and Mike Cameron both had big nights for the Red Sox last night as they both had three hits, including a home run each. Hall knocked in four while Cameron had three RBIs. Youk and Adrian Beltre also had home runs.
Of course Lester was Lester last night. He pounded the strike zone and had great command on all of his pitches. It definitely doesn't seem like it matters who is behind the plate with him as he continues to get better each start out. Without him, the Red Sox might not be where they are.
Hopefully the Red Sox didn't use up all of the hits and runs as they get set to face the Blue Jays in just a short while.
We'll be back in a little bit with today's lineups, batter/pitcher matchups, news and any links from the morning, but for now enjoy the overnight links after the jump.