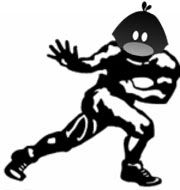 Each week a group of Bloguin college football bloggers get together and put our votes in for the top Heisman Trophy candidates. Then after the votes are tabulated by the fine folks at Randall Simon's Sausages, the poll is released on Wednesday.
Here are the results for the tenth week of the 2010 college football season. Be sure to head over Randall Simon's Sausages for a full look at the results for the week for more insight on the poll.
Cameron Newton (QB-Auburn) - 57 Points, 50.0%, 19 1st Place Votes
LaMichael James (RB-Oregon) - 37 Points, 32.46%, 18 2nd Place Votes
Kellen Moore (QB-Boise State) - 12 Points, 10.53%, 1 2nd Place Vote
Andrew Luck (QB-Stanford) - 3 Points, 3.70%, 3 3rd Place Votes
Andy Dalton (QB-TCU) - 3 Points, 3.70%, 3 3rd Place Votes
Also Receiving Votes - Denard Robinson (QB-UM), Brandon Weeden (QB-Ok St) 1 pt.
In case you were wondering, this is how I voted in this week's poll:
Cam Newton Auburn (QB) – Despite the allegations and rumors surrounding him, Newtown went out there and dominated like he should have against an inferior opponent. He threw for 317 yards and a career-high four touchdowns and added one on the ground
LaMichael James – Oregon (RB) – James did nothing wrong to hurt his Heisman candidacy in the Duck's romp as he ran for 121 yards and three touchdowns. If Newton gets shut down in the Iron Bowl, James could easily become the front-runner.
Kellen Moore – Boise State (QB) – Hawaii was supposed to challenge Moore and the Broncos but it wasn't even a fair fight. Moore shredded the Warriors defense for 507 yards and three touchdowns. He did throw two picks but man is he impressive./li>