Video: UConn Men Return With 84-50 Win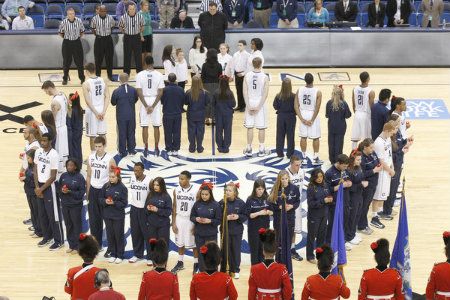 The UConn Huskies men's basketball team returned from their final exams break and had to deal with the emotions of that are still raw after what transpired on Friday in Newton, CT.
After honoring the memory of the victims, the Huskies did their best to take people's minds, albeit temporarily, off what happened. And as you might expect, UConn was a little bit rusty as were the Maryland-Eastern Shore Hawks.
The Huskies used a big second half to pick up an 84-50 win over the Hawks in front of 8,841 at the XL Center in Hartford, CT on Monday night.
UConn improves to 8-2 while the Hawks fall to 0-9.
After going scoreless his last time out, Omar Calhoun had his best game so far as he led the Huskies with 22 points. Ryan Boatright added 21 points and four rebounds which tied Enosch Wolf and DeAndre Daniels for the team high. Daniels also had 13 points.
Shabazz Napier had a nice all-around game with 11 points and eight assists.
Louis Bell led the Hawks with 12 points. Ron Spencer added 11 points and a game-high eight rebounds. Kevin Mays also had a nice game with eight points, six rebounds and four assists.
With our thoughts elsewhere, it's tough to focus on things. It's understandable as everyone grieves differently. Hopefully, the Huskies can continue to provide a distraction.
Given it was their first game back, they really in the end didn't play so bad. But with Big East play approaching, they really need to work on their rebounding as they let the Hawks, an 0-9 team coming on, out work them on the boards 30-26.
Something tells me Kevin Ollie will have them working on that before they take the court again.
That'll come on Friday night when they'll host the Fordham Rams at the XL Center. Tip is scheduled for 7 p.m.
Maryland-Eastern Shore Hawks @ UConn Huskies 12.17.12 box score
Here are the postgame quotes from UConn head coach Kevin Ollie.
Here are UConn's postgame notes.
Follow Ian on Twitter @soxanddawgs. And be sure to like us on Facebook as well.
photo credit: david butler ii - special to hartford courant (no. 7 in gallery)