Video: UConn Men Knock Off No. 6/7 Syracuse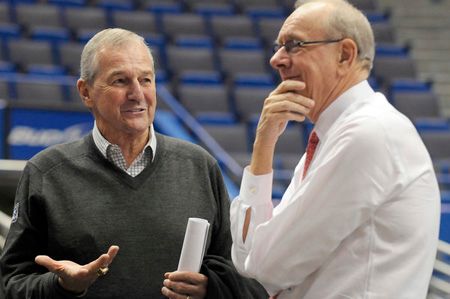 Unless they move to the ACC, the only chances of the UConn Huskies and Syracuse Orange playing again would have to come in the postseason. And we all know that's not happening this season.
While it would have been more fitting that Jim Calhoun faced Jim Boeheim in the final Big East game between the two teams, Kevin Ollie couldn't have made a better game plan then he did on Wednesday night.
Using a 13-4 run late in the second half, the Huskies were able to upset the Orange 66-58 in front of 13,518 and nationally televised audience on ESPN at the XL Center in Hartford, CT.
The Huskies improve to 17-6 (7-4 Big East) while the Orange fall to 20-4 (8-3).
Ryan Boatright led the Huskies with 17 points, three steals and had four rebounds and four assists. Omar Calhoun added 15 points and six rebounds while Shabazz Napier had 10 points and a team-high seven assists.
DeAndre Daniels led the Huskies with eight rebounds and had eight points.
Michael Carter-Williams paced the Orange with 15 points before fouling out. James Southerland had 14 points while C.J. Fair had 10 points. Jerami Grant led all rebounders in the game with nine while adding six points.
It was a tightly played game in the first half as neither team led by more than three points and there were six ties until UConn took a five point lead at the break at 29-24. To say it mildly, it was a typical Syracuse-UConn game.
Syracuse would take the lead early in the second half at 30-29 as the opened up on a 6-0 run. Boatright would put the Huskies back in front right away though with back to back three-pointers. The Orange once again rallied with a 5-0 run to tie the game up.
UConn would go back up again by four points before Syracuse had another 5-0 run to take their final lead of the game. Behind the three-pointing shooting of Calhoun, the Huskies took control with a 13-4 run and held off the Orange down the stretch.
We all know the Huskies have had troubles with the zone, especially when they play with Syrause. And playing with a limited front court which is essential to attack the zone, Ollie's game plan was perfect and executed to perfection.
UConn has a chip on its collective shoulder since they can't play in the postseason and this was just another way of them showing it to the world.
It was absoutely great win for the Huskies.
Next up for UConn are the Villanova Wildcats who will come to the XL Center on Saturday. Tip is scheduled for 12 p.m.
To continue reading, please click on the continue reading button below if you're on the home page.
Syracuse Orange @ UConn Huskies 2.13.13 box score
Here are the postgame quotes from UConn head coach Kevin Ollie.
Here are UConn's postgame notes.
Follow Ian on Twitter @soxanddawgs. And be sure to like us on Facebook as well.
photo credit: john woike - hartford courant