Video: UConn Women Advance To Sweet 16 With 72-26 Win Over Kansas State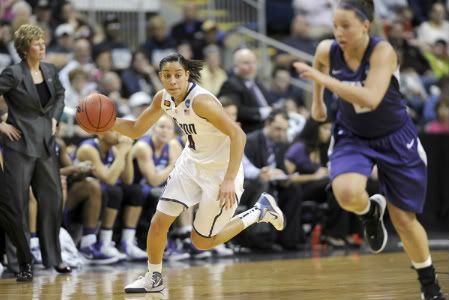 The Kansas State Wildcats had been seeded in the UConn Huskies women's basketball team in previous years but the two teams have never matched up on the hardwood. After what Geno Auriemma's team did to the Wildcats on Monday night, they'll probably be hoping to be seeded somewhere else in coming years.
Once again, UConn's defense was stifling again and the offense was clicking on all cylinders as they went on to a very easy 72-26 win over the Wildcats in front of 4,372 at Webster Bank Arena in Bridgeport, CT.
With the win, the Huskies (31-4) advance to the Sweet 16 where they'll take on the winner of Tuesday's Penn State/LSU matchup on Sunday. It's the 19th straight year that UConn has advanced to at least the Sweet 16.
Bria Hartley led the Huskies with 16 points, scoring 13 of them in the first half. Kaleena Mosqueda-Lewis added 15 points while Kiah Stokes had a career-high 13 points to go along with nine rebounds and three blocked shots.
Tiffany Hayes rounded out the Huskies in double figures with 11 points and also pulled down nine rebounds. As per her usual, Kelly Faris had a nice all around game with five points, seven rebounds and four assists.
Brittany Chambers paced the Wildcats with 11 points and had six rebounds. Jalana Childs chipped in with six points and six rebounds.
Here are the highlights from the game:

UConn Huskies vs Kansas State Wildcats 2012 NCAA Women's Tournament Second Round box score
Follow Ian on Twitter @soxanddawgs. And be sure to like us on Facebook as well.
Photo credit: John Woike - Hartford Courant (No. 10 in gallery)