Welcome to the Gigantic Sox and Dawgs 2013 MLB preview. Over the next few days you will get a team by team look at its key players, new faces, their potential MVP, Cy Young and Rookie of the Year candidates, their possible starting lineup and rotation as well as a quick summary.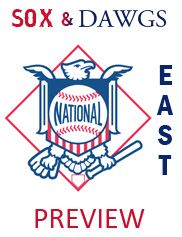 We will also select a MVP candidate and Cy Young candidate for each team no matter what their predicted team outcome is.
This preview was sculpted over the off season with some mild tweaking as we went along prior to publication. It comes from a culmination of reading many hours of baseball research.
I hope you enjoy this look at the upcoming season. I know everyone will not agree with me and that's fine put it in the comments or hit me up on Twitter or via This email address is being protected from spambots. You need JavaScript enabled to view it. . I can assure you I'll most likely have an argument for each and every objection that you could possibly raise.
Yesterday we looked at the AL Central, Sunday was the NL West, Monday was the AL West, Tuesday we previewed the NL Central and today it's the NL East.
To continue reading, click on the read more button below if you're on the home page.
no comments