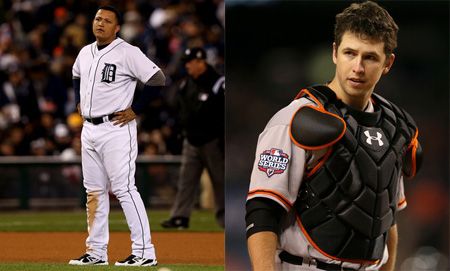 It's now time to put the finishing touches on the 2012 MLB season as Baseball Writers' Association of America (BBWAA) are presenting their 2012 end of the year awards.
On Monday, it was the 2012 American League and National League Rookie of the Year. On Tuesday, it was the 2012 AL and NL Manager of the Year. On Wednesday, it was the 2012 AL and NL Cy Young Awards. And on Thursday, it's their final awards, the 2012 AL and NL MVP Awards.
In the AL, the BBWAA has selected Detroit Tigers 3B Miguel Cabrera. And in the NL, they have chosen San Francisco Giants catcher Buster Posey.
Cabrera, who won the AL Triple Crown, hit .330 with 44 home runs and 139 RBIs in 161 games for the Tigers. He was the first Triple Crown winner since 1967 when Boston Red Sox legend Carl Yastrzemski won it.
Posey's MVP award caps off a season in which his Giants team won the 2012 World Series. In 148 games, Posey hit .336 with 24 home runs and 103 RBIs.
That's a wrap on the 2012 BBWAA award season. Now we can keep our eyes on the free agent market and of course the trade market.
For a full look at the 2012 AL and NL MVP Award voting totals, please click on the continue reading button below if you're on the home page.
no comments