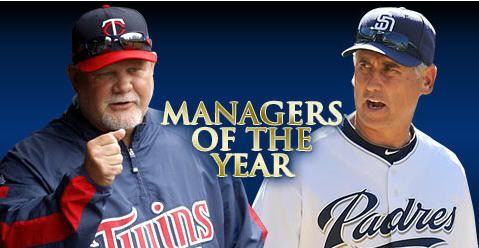 The Baseball Writers' Association of America (BBWAA) announced their 2010 American League and National League Manager of the Year winners on Wednesday afternoon as they named Ron Gardenhire of the Minnesota Twins and Bud Black of the San Diego Padres as the recipients.
Always a bridesmaid never a bride, Gardenhire finally won the AL Manager of the Year Award after finishing in second place five times in an eight-year span. Gardenhire led his Twins to a 94-68 record and the AL Central title. It's the sixth time in his nine years the Twins have won their division.
Boston Red Sox skipper Terry Francona finished in fourth place in the voting picking up two second place votes.
Black's Padres fell just short of making the playoffs as they were beat out by the eventual World Series champions San Francisco Giants on the final day of the regular season. Black's Padres finished with a 90-72 record despite having the second lowest payroll in MLB at $38 million.
Next up in the voting from the BBWAA is the American League Cy Young voting. We should see Jon Lester and Clay Buchholz from the Red Sox get some votes and maybe even one of them might sneak out the win.
AL MANAGER OF THE YEAR VOTING

NL MANAGER OF THE YEAR VOTING

MANAGER

1ST

2ND

3RD

PTS.

MANAGER

1ST

2ND

3RD

PTS.

Ron Gardenhire, Twins

16

8

4

108

Bud Black, Padres

16

7

3

104

Ron Washington, Rangers

10

8

7

81

Dusty Baker, Reds

13

12

2

103

Joe Maddon, Rays

1

10

9

44

Bruce Bochy, Giants

1

4

13

30

Terry Francona, Red Sox

-

2

7

13

Bobby Cox, Braves

1

4

11

28

Cito

Gaston, Blue Jays

1

-

-

5

Charlie Manuel, Phillies

1

4

3

20

Joe Girardi, Yankees

-

-

1

1

Brad Mills, Astros

-

1

-

3
Photo credit: MLB.com
no comments