In The Red Zone – December 3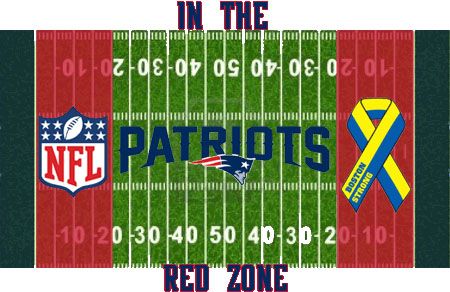 Someone care to tell me how do you follow up the comeback win at home against Denver? Why you go on the road and pull out another come from behind win against Houston, 34-31 at Reliant Stadium.
After the Broncos game there was a photo of a man wearing a Tom Brady #12 jersey but instead of Brady on the name placard it simply said "God". While he may not be God himself, he has been working some miracles. This makes two weeks in a row and 4 times in 12 games he has brought the team back from a fourth quarter deficit or tie and it's the 40th time in his Hall of Fame career.
I try to rarely gush over Brady, preferring to let others do it, but at times I can not help myself. Rarely do you see an athlete with such command and respect of teammates and coaches. That is saved for the truly special guys on the field and Brady is one of those.
I've also stopped, or tried to, using the terms "future Hall of Famer" and "Hall of Fame career" because as a kid those were bandied about by many a broadcaster about many athletes who never even sniffed a Hall of Fame unless they bought a ticket. But in this case I think we can all agree the man is going in and will be forever among the NFL greats.
We say it a lot in New England that the team is never out of a game with Brady around as long as it's close. On Sunday in Houston he delivered again.
Down by 10 at half he rallied the troops and they twice took leads of 21-17 and 28-24 before falling behind in the 4th quarter 31-28.
On the next two drives, the first 9 plays for 40 yards led to the game tying 53-yard field goal by Stephen Gostkowski. Then after forcing a Texans 3 and out, Brady took them 32-yards in 7 plays for yet another Gostkowski 53-yarder with 3:15 to play that proved to be the game winner.
In the second half alone Brady was 18 for 23 for 263 yards and 1 TD to Shane Vereen. In the first half he was 11 for 18 for 108 yards 1 TD to Rob Gronkowski and 1 INT.
In the beginning of the year the defense was the teams strongest component and they bailed the offense out a few times. Now as the weather turns towards playoff football Brady and his receivers are clicking, Gronk and Danny Amendola appear healthy, Julian Edelman has become the little big man and the kids are contributing and now the offense is bailing out an injury riddled defense.
I don't have a crystal ball and I can't tell you where this team will end up but I can say that not only has Bill Belichick's team hit its second half stride but others see it too. Tony Dungy said Sunday night that the Patriots remind him of his Super Bowl winning team in Indianapolis because they are winning the same way.
It's never pretty in Foxboro but they sit 9-3 with 4 games remaining and are currently the #2 seed in the AFC Playoff picture.
It's not a bad place to be.
Game Notes
The Patriots did not cover the spread (PLUS 9) and the teams were OVER the under/over line of 47. I missed on the points and but hit on the over.
I am having a brutal season picking games I am now 3-9 vs. the spread in 2013 and 6 for 12 on calling the under/over.
With the win, the Patriots are guaranteed a winning season for the 13th consecutive year. They are the only NFL team to do that in this time period and only San Francisco (1983-98) and Dallas (1970-85) had longer streaks.
New England leads the overall series against Houston 5-1 including playoffs.
This was the 3rd meeting since December 2012 and New England has won all three.
Since 1994 the Patriots are PLUS 155 in turnover differential best in the NFL by a wide margin.
Since 2010 the Patriots are 26-2 in the second half of the season. Since 2000 under Belichick the team is 85-22 in the second half.
Since 2003 the Patriots have the NFL's best record at 135-37. The Indianapolis Colts are second 15 games behind.
Patriots are 83-47-1 all-times vs. the teams that make up the AFC South.
Since 2001 the Patriots are a NFL best 46-6 in December.
New England snapped a three game road losing streak (Jets, Bengals and Panthers).
Bill Belichick is 5-1 vs. the Texans in his career including playoffs.
Overall in his NFL career Belichick is 214-112. The 214 wins are good for 5th all-time in NFL history.
Houston head coach Gary Kubiak, is in his 8th season, he is 61-63 and 2-2 in the post season for an overall record of 63-65.
Kubiak is 1-4 vs. New England.
This is Tom Brady's 14th NFL season he is 5-1 vs. the Texans in his career including 1-0 in the playoffs. He is 64-29 on the road in the regular season.
Overall he is 145-42 as a starting QB and is 17-7 in the playoffs for an overall record of 162-49.
145 regular season career wins are 5th all-time. Dan Marino is 4th with 147.
353 TD passes in his career make him for 4th all-time. He is one ahead of Drew Brees who played Monday night at Seattle.
Brady credited with his 4th comeback win of 2013. This season he has done in Buffalo (Week 1); New Orleans (Week 6); Denver (Week 12) and now Houston (Week 13).
Patriots first team in NFL since 2011 Patriots to have back-to-back comebacks of 10 or more points.
The Patriots Inactives were: LB Steve Beauharnais; TE Mike Hoomanawanui; WR Aaron Dobson; RB Stevan Ridley; CB Alfonzo Dennard, T Marcus Cannon and DE Jake Bequette.
Dennard has his court appearance at the end of the week for the probation violation and DUI charge in Nebraska.
RB LeGarrette Blount led the Patriots running backs with 44-yards on 12 carries.
WR Julian Edelman had 9 catches and TE Rob Gronkowski had 127-yards receiving to lead the Patriots.
RB James Develin had his first NFL rushing yardage and his first NFL TD on Sunday.
K Stephen Gostkowski became the first kicker in NFL history to have the game tying and game winning field goals in the 4th quarter from 50-yards or more. Both were from 53-yards.
New England was 5 for 12 for 42% on 3rd down conversions.
The Pats were 3 for 3 in the red zone and 3 for 3 on goal to goal efficiency.
New England won the time of possession having the ball for 33:46.
Patriots had 28 first downs to 19 for the Texans.
LB Dont'a Hightower had 7 tackles to lead the team.
The New England defense allowed Houston 385 yards of total offense. The Patriots had 453 yards for the game.
The Patriots had 2 sacks and 7 QB hits.
Texans QB Case Keenum is in his first season as a NFL starter and he is 0-6.
He is 0-1 vs. New England.
The Texans were 5 for 11 for 45% on 3rd down conversions. They were 0 for 1 on 4th down conversions.
Houston was 3 for 3 in the red zone and 1 for 1 on goal to go.
Pete Morelli was the referee for the game.
71,769 attended the game at Reliant Stadium in Houston TX. It was mostly cloudy windy and 64 degrees with the roof open.
Offensive Players of the Game: Patriots QB Tom Brady was 29 of 31 for 371 yards with 2 TD's and 1 INT.
Defensive Players of the Game: Texans DE J.J. Watt had 5 tackles, 3 QB hits and 1 pass defensed.
Next Week
Up next: Cleveland Browns
Location: Gillette Stadium, Foxboro MA
Date/Time: Sunday December 1 at 1 p.m.
TV Network: CBS