Video: Red Sox, Indians Clear The Benches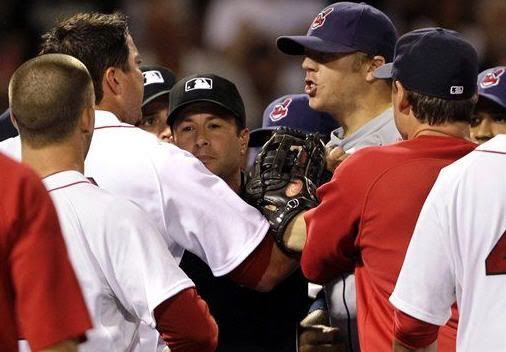 During the bottom of the 8th inning of Tuesday night's game, Cleveland Indians pitcher Jensen Lewis threw behind Boston Red Sox third baseman Adrian Beltre and of course Beltre didn't take kindly to it.
He was stopped by Indians catcher Lou Marson and home plate umpire Tim Welke before anything serious could happen. But the benches cleared anyways and we have a few verbal discussions, mainly between Josh Beckett and Shelley Duncan, and some shoving.
But after it was cleared up, Red Sox skipper Terry Francona was going at it with Indians third base coach Steve Smith and the players headed back out. I wonder if Tito told Smith sucked on "The Amazing Race".
Why on earth would you throw at Beltre? This is the same guy that will beat his teammates up for rubbing his head. After all was said and done, Lewis, Smith and Beckett were all ejected from the game.

Photo credit: AP Photo